Gunn Trophy..
All Highland Clubs are invited to send teams of three juniors to compete for the Celebrated Gunn Trophy!



Saturday 20th September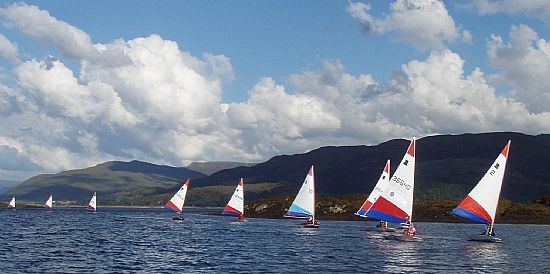 This is a fun event. Sailors must still be at school to compete and should be able to bring their own Toppers.
Briefing at 11.00a.m. We plan to run 5 or six races -- with all results counting towards the final score. The day will end with a barbeque and prizegiving. There is no fee to enter.
Please contact D Murray on david.murray@btconnect.com for more information.
Notice of Event:
All Highland and Moray Sailing Clubs are invited to send one or more teams to take part in this Junior Team Racing Event which will be held at Lochcarron Sailing Club on Saturday 20th September.
The Gunn Trophy is aimed at Topper Sailors competing in teams of three. The best overall team score over a series of four or more short races will win the prize. There is no entry fee but there will be a small charge for the barbeque at the end of the afternoon. The emphasis will be on friendly competition and team playing. Adults from visiting Clubs will be invited onto rescue boats to help identify sailors and to ensure fair play!
All participants must still be attending School. Scoring will be on a low point system with the aggregated overall score of each team counting towards the final result. There will be no discards.
The trophy is a scale replica of a British Navy cannon. (It is named after the late Douglas Gunn who was commodore of Lochcarron Sailing Club in the 1990s.)
Briefing will be at 11.00am. (Probably 2 or 3 races followed by a short shore break and then 2 or 3 more.) Award Ceremony planned for 4.00pm.
Please Contact Dave Murray on david.murray@btconnect.com with any queries and to notify us of your intention to attend. It would be very helpful if clubs let us know in advance if they intend to participate.